a trustable, reliable sourcing platform providing early life nutrition.
Danone Specialized Nutrition focuses on healthy growth and development in early life.


Danone offers the target audience an alternative digital commerce platform when retailers and pure players are saturated. Lab Digital composed, developed, and maintains this worldwide solution.
background
Together with Danone, we wanted to develop a headless solution to augment experience platforms with e-commerce functionality. The existing platforms already had an essential role in the customer journey of the Danone brands, so it was better to use them as a starting point to build commerce functionality and integrate them smoothly. To scale fast, we composed independent commerce infrastructures that empowered markets with a standard rollout that only requires a little tailoring.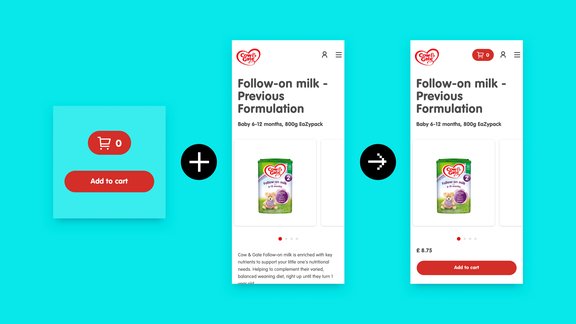 the platform basics
Lab Digital developed a single platform commerce solution that can be rolled out from a central (IT) organisation. The support can be done on a local level.
The platform consists of three software components, together forming the foundation for the architecture: the enabling infrastructure (a codified blueprint in AWS), the deployment framework (allowing the central organisation to manage multiple rollouts in a standard way) and the user interface kit, containing several elements for reusability on the front end.
working together
Together with Danone, Lab Digital created a collaborative atmosphere that enabled us to combine steady and high-quality technical development with an end-user-focused experience while doing fast rollouts in a large and international environment. We began with a thorough discovery phase up front to define the technical strategy and investigate the most suitable solutions to composing a modern headless landscape. The platform's initial development, rollouts and maintenance were taken care of by a multi-disciplinary development team in close cooperation with Danone.